Emre's Emergence: Sakci Shares Journey In Becoming A World-Class Breaststroker
admin, 10 months ago
0
4 min

read
4
By James Sutherland on SwimSwam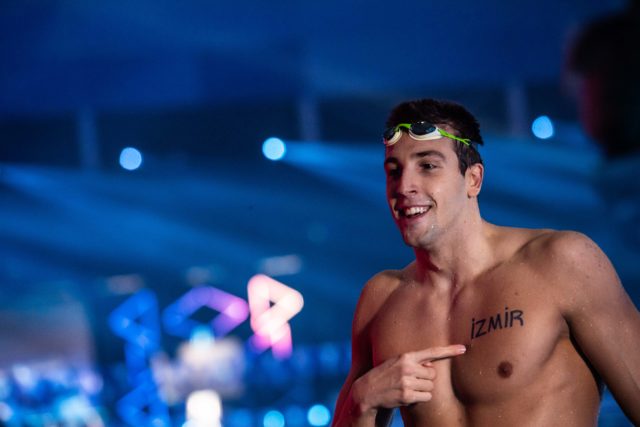 Turkish swimmer Emre Sakci was a relative unknown on the global swimming scene coming into the International Swimming League's abbreviated season in Budapest, but athletes and fans alike certainly know who he is now.
Sakci, a 23-year-old who trains out of Izmir, his hometown, made his league debut this season with Team Iron, and quickly established himself as one of the best sprint breaststrokers in the world. He set the European Record on multiple occasions in the 50 breast, coming just .04 off of the world record, and also broke the Continental mark in the 100 breast (which has since been broken by Adam Peaty).
In talking with SwimSwam, Sakci discussed what has gotten him to this point, including his relationship with longtime coach Türker Oktay, his performance at last year's European Short Course Championships, and what his experience was like inside the ISL bubble.
Sakci was first introduced to Oktay at the age of nine by Turkish sports medicine doctor Aylin Çeçen Aksu, with the objective of going to the Olympics already in mind.
"Starting to train with him was a turning point for me," Sakci said of Oktay. "He first trained me to become an elite athlete. I have a really interesting bond with my trainer. I understand what he has to say without speaking to him and I can understand what he thinks before taking action."
Like many healthy athlete-coach relationships, Sakci says that the two don't always see eye-to-eye since they're both so locked in on being the best.
"Since we're both focused on victory, we can have differences of opinion," he said. "These times can be very difficult for both of us, but since we trust each other, our contradictions take us a step further ahead. I think the greatest gift in life is a fellow trainer with the same goals as you."
Rather than come over to the United States and swim in the NCAA, Sakci has opted to remain in Turkey for his training, which has ultimately led him to increasing success on the international stage.
After a breakout fifth place in the 50 breast at the 2018 SC World Championships in Hangzhou, Sakci became the first Turkish swimmer ever to win a medal in the event at the 2019 European SC Championships, claiming silver behind Russia's Vladimir Morozov in a national record-setting time of 25.82.
"It was a fantastic experience for me," Sakci said of those 2019 Euros in Glasgow. "Getting a medal in the European Championship was among my personal goals and this was the most important medal I earned in the international arena.
"I am really proud to have earned that medal and it has a special place for me. I got a lot of experience for my future races from this experience and I hope to have a chance to show this in my future races."
Despite entering the Iron roster for the season not knowing any of his future teammates, Sakci has really cherished the last five weeks.
"Team Iron was the most suitable team for me to start in ISL in my opinion," he said. "I didn't know anyone in the team to begin with. Of course I knew them as swimmers and have heard of them but I didn't know them on a friendship level. This has been a great and fun experience for me, I'll never forget these days in my entire life.
"I am happy to be a swimmer on Team Iron. It's a great experience to compete for the same cause as a team alongside swimmers from all around the globe. Therefore, I am happy and proud to live through this experience."
In addition to his standout performances in the men's 50 and 100 breast, Sakci also had a marquee showdown with American superstar Caeleb Dressel back in Match 4.
The two went head-to-head in the final round of the skins, which was breaststroke, with Sakci ultimately coming out on top.
The Turk had nothing but praise for Dressel, who is one three swimmers to set an individual world record in the bubble.
"Caeleb Dressel is currently maybe the best swimmer in the world," said Sakci. "Competing against him in the skins race was really important and fun for me. Skins races are really exciting for a swimmer."
While the Iron club was eliminated in the semi-final round, and therefore won't have the chance to compete in this weekend's league final, the future iss very bright for Sakci.
His dream of competing at the Olympics, which he's had since he was nine, will come true — should the event happen — this summer after his long course 100 breast swim of 58.85 back in August 2019 put him over a second under the Olympic 'A' standard.
Read the full story on SwimSwam: Emre's Emergence: Sakci Shares Journey In Becoming A World-Class Breaststroker
Source: Swimming – SwimSwam
Related posts